Professor Alan Y. Medvin
Head Coach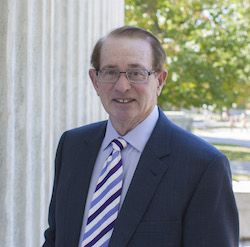 Alan, a life-long resident of Princeton, retired in 2013 after a successful 41 year career as a New Jersey trial lawyer in private practice during which time he tried approximately 150 cases to verdict. In addition to trying cases in New Jersey, he tried cases to verdict in New York, Ohio and Wisconsin. In 1984 he was elected President of the New Jersey Chapter of the Association of Trial Lawyers of America and in 2008 he was awarded its Gold Medal for Distinguished Service. He taught trial advocacy as an adjunct professor at the Rutgers University School of Law in Newark and for six years sat on the Board of Governors of the Association of Trial Lawyers of America, where he served as the Chair of the Professional Negligence Section, Chair of the Committee on Ethics and Discipline and Vice-Chair of the Torts Section. In New Jersey, Alan was appointed to ten consecutive two year terms on the Civil Practice Committee by the Chief Justice of the NJ Supreme Court. 
After his retirement in 2013, Alan became the volunteer head coach of Princeton University Mock Trial until the Princeton administration eliminated the service of all volunteer staff positions in the summer of 2020.  In addition to volunteering in the mock trial world, he volunteers as a Case Developer at Centurion, located in Princeton, the world's first organization devoted to freeing men and women serving life in prison for crimes they did not commit, and also volunteers as a Wish Grantor at Make-A-Wish NJ.
Camryn Curnuck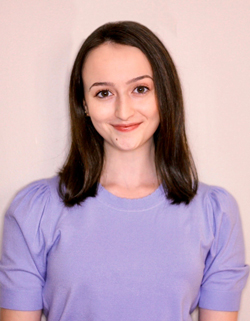 Camryn Curnuck graduated summa cum laude from Rider University in 2023 with a B.S.B.A. in Health Care Management. She served as Competition Captain of Rider's brand-new Mock Trial team during her senior year, and is thrilled to have been asked to continue working with the team as an assistant coach. Camryn helped lead the team to a 7-1 record at the Princeton Regionals while winning an outstanding attorney award. Rider's incredible record at Regionals qualified the team to compete at the Opening Round Championship Series (ORCS), something very few teams have done in their first year of competition.
 
Camryn began her career at Rider as a BFA musical theatre major but switched to business as a result of the onset of the pandemic. She became interested in mock trial because of its emphasis on performance, originally thinking that she would enjoy playing a witness, but after a short time became interested in the role of an attorney.
 
Camryn now works for Elevance Health and will eventually be applying to law school. She considers her time as a mock trial attorney for the Rider team to have been a life changing experience.
Rachel Leslie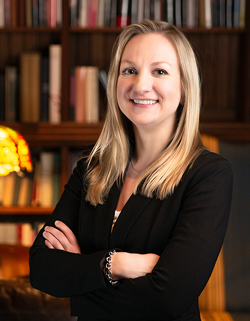 Rachel Leslie is an appellate attorney in the New Jersey Office of the Public Defender. Rachel received her J.D. from New York University School of Law, where she served as the managing editor of the New York University Law Review and participated in the criminal appellate defender clinic. She also worked as a teaching assistant in the Lawyering Program and volunteered with the Civil Legal Advice and Resource Office in Manhattan Civil Court. After graduating from NYU Law, Rachel clerked for Chief Justice Stuart Rabner of the New Jersey Supreme Court.
Rachel graduated summa cum laude from Rutgers University in 2012 with her BA in philosophy and linguistics. Prior to attending law school, she worked for Princeton University for seven years, where she oversaw the institution's business expense policies and managed various financial programs. Rachel lives in Princeton with her fiancé and enjoys exploring New Jersey towns and visiting the Comedy Cellar in New York.
C. Ryanne Domingues
Acting Coach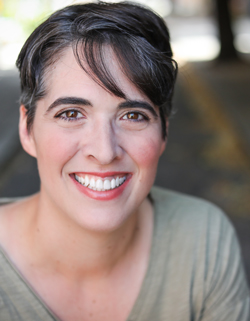 C. Ryanne Domingues is an Assistant Professor in the Department of Performing Arts at Rider University where she teaches classes in acting, directing, and devised work. She is also the Artistic Director of Passage Theatre, a professional company based in Trenton, NJ whose mission is to create and produce socially relevant new plays and arts programming that deeply resonate with and reflect the community. She was a co-founder and served as the Producing Artistic Director of Philadelphia's Simpatico Theatre from 2004-2010, where she directed various shows geared towards social change. During this time, she also participated in the 2008 Lincoln Center Director's Lab and the La MaMa Umbria International Symposium for Directors. Ryanne received her MFA in Directing from the University of California, Irvine in 2013 while assistant directing with various companies such as South Coast Repertory Theater, the Utah Shakespeare Festival, and California Shakespeare Theater. A lover of mystery novels and running, she can often be found drinking coffee alongside her husband while her toddler, dog, and cat create beautiful chaos.
Professor Micah Rasmussen
Faculty Advisor
Micah Rasmussen is the director of the Rebovich Institute for New Jersey Politics. He has contributed to the public affairs of the state for more than two decades, and has more than 15 years of experience as an adjunct professor of political science.
As Governor James E. McGreevey's press secretary, he handled crisis communications during the Governor's historic resignation. He has served as communications director for the New Jersey Department of Transportation, worked in the New Jersey General Assembly, and managed several political campaigns.
Most recently, Rasmussen served as vice president for executive communications at Chubb, where he wrote speeches for audiences throughout the world. He previously served as director of corporate communications for New Jersey Resources and its primary subsidiary, New Jersey Natural Gas. He led the crisis communications that kept affected customers, public officials and the media informed throughout widespread system damages in the wake of Superstorm Sandy.
During his undergraduate studies at Rider, Dr. Rebovich was his professor and mentor. He earned his Master of Arts in Political Science from the Eagleton Institute of Politics at Rutgers University.
Rasmussen runs the New Jersey Model Congress, a civics education program he founded. He lives with his wife and three daughters in Upper Freehold Township, where he advocates for the preservation of farmland and open space. 
Miriam Mills
Acting Adviser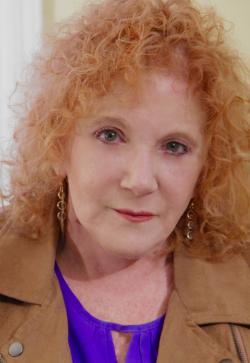 Professor Mills, who retired from the Rider faculty in 2023, holds a Master of Fine Arts in Directing from the Mason Gross School of the Arts at Rutgers University. Ms. Mills teaches acting, directing, acting for the camera and advanced performance classes in auditioning. She has directed more than 100 shows nationally, including productions of Extremities, The Pillowman, Rent and Sweet Charity. Ms. Mills has also taught at Mason Gross, The College of New Jersey and Mercer County Community College. In 2009 she received the Kennedy Center ACTF Meritorious Directing award for excellence in directing for her production of The Pillowman. She is active in the Association for Theater in Higher Education and has professionally stage-managed for many well-known celebrities. Her New York acting credits include leads in such productions as Romeo and Juliet, Hot'l Baltimore and Company.