The Rider University Schimek Family Fitness Center​ is a facility dedicated for the recreational use of Rider students, graduate students, faculty, staff, affiliates, alumni and the community. Membership eligibility is determined by the individual's primary affiliation with Rider University. The fitness center is located in the Student Recreation Center.
Contact Us
609-896-5059  |  Fax: (609)-896-7715  |  [email protected]  |  Campus Map
Follow @RiderUniversitySRC on Instagram
Hours
Fall Hours of Operation (through Dec. 20, 2021)
Monday through Thursday: 7 a.m. to 11 p.m. (11 p.m. to 12 a.m. only the Game Room will remain open)
Friday: 7 a.m. to 8 p.m.
Saturday: 9 a.m. to 5 p.m.
Sunday: 11 a.m. to 11:30 p.m.
Group Exercise
To view the group exercise schedule click the link for "Group Exercise Classes & Fitness Programming." Visit the BroncNation Events tab to see classes, dates, times and to register in advance for a class.
Coppola Pool Recreational Swim
Monday / Wednesday / Friday: 10 a.m. to 2 p.m.
Tuesday and Thursday: 7 a.m. to 11 a.m.
Saturday and Sunday: 2 p.m. to 5 p.m.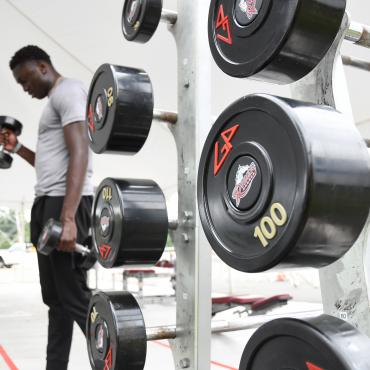 Can't Make It to the Gym Today?
No problem. Get our digital LifeFitness Workout of the Day (WOD)!
Workout of the Day