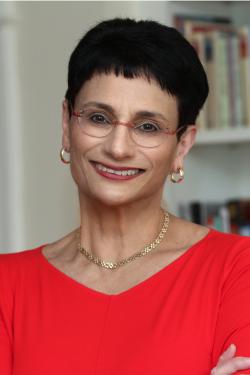 In 2006, The Mazzotti Awards in Women's Leadership, funded through the generosity of Joan Mazzotti '72, chair of the Rider University Board of Trustees and her husband Michael Kelly, were established with the purpose of providing external leadership professional development opportunities to women faculty and staff of the Rider Community.  Funds are awarded to distinguished women to support leadership training and mentoring which will assist them to progress to positions of leadership.
Learn More about the application process
The goals and objectives of this program focus on the following
External leadership training for distinguished women faculty and staff within the Rider Community with an emphasis on:
Identification of specific personal professional goals which envision new possibilities for career paths; 
Creation of a network of external colleagues with whom women can share questions and ideas;
Collaboration and dissemination of training highlights to the Rider Community through professional development activities. 
Implementation of The Mazzotti Women's Leadership Summit for the Rider Community that will:
Provide a forum for past Mazzotti Awards recipients to actively share their newly acquired knowledge and skills with Rider's female community; 
Explore a range of women's leadership issues to raise consciousness among women on campus and provide a forum for learning and active discussion;
Ensure that significant issues such as ownership and responsibility, behavioral change, the politics of higher education, negotiation and ethical decision-making, and consensus building, are part of  the Summit curriculum to allow individuals to change from being followers to being leaders; 
Involve select external presenters to participate in the Summit to provide perspectives to complement those presentations made by Mazzotti Awards recipients; and  
Disseminate leadership training to a broader number of women faculty, staff, and administrators at Rider.
Establish a community of leaders via the Mazzotti Leadership Committee to:
Administer The Mazzotti Awards process
Ensure the "women and leadership conversation" continues across disciplines, schools and administrative departments
Partner with the Rider Women's Leadership Council to explore opportunities to make women's leadership a part of the ongoing dialogue on campus.