Monday, Mar 8, 2021
With professional help, students are creating a film they expect will premiere at festivals
by Adam Grybowski
Almost two dozen students are embarking on the creation of a professional film following the cancellation of this year's Rider's Semester in Los Angeles program.
Started three years ago, the Semester in LA program is designed to catapult students into a career in media production and entertainment by working firsthand in and around Hollywood. When the pandemic scuttled this year's program, it initially left the participating student cohort high and dry during their final semester.
The students had been looking forward to a defining college capstone; all of sudden, their options had dwindled to picking up whatever classes remained open on the course roster.
"This was not the last impression we wanted these students to have and definitely not the best experience they could have," says Dr. Barry Janes, a professor of communication. 
Faced with that prospect, students, faculty and administrators devised an alternative: The group is now working on the creation of a real film alongside the mentorship of industry professionals. The students are involved in every aspect of filmmaking, from script writing and location scouting to shooting and acting. If all goes according to plan, each student will graduate with a professional credit to their name. 
"This is the ultimate making-lemonade-from-lemons scenario," Janes says.
The project has been underway since last November. Students are executing tasks according to their skills and interests and receiving a hands-on introduction to the challenges of industry work, from securing music rights to meeting the filming requirements set by the Screen Actors Guild.  
Senior Jen Bongarzone, a filmmaking major, is working on multiple aspects of the project, including serving as its COVID-19 compliance officer. Her main role is a cinematographer.
Bongarzone says she was heartbroken when she learned the Semester in LA program was canceled — not least of all because the opportunity was one of the main motivators for her selecting Rider in the first place. She has been pleasantly surprised by this new opportunity with her classmates. She says it's a production "we are excited to call our own."
Working on the production also has her re-evaluating her immediate post-graduation goals. Especially considering the professional network she's growing through this project in the New York area, Bongarzone may choose to search for work closer to her alma mater before ultimately seeking work on the West Coast.  
"I feel I will be getting much more from this experience and that it will contribute greatly to my future endeavors," she says. "It has made me think a lot about my options after graduation. I am now seeing the benefits of job hunting locally more than I did in my earlier years of college."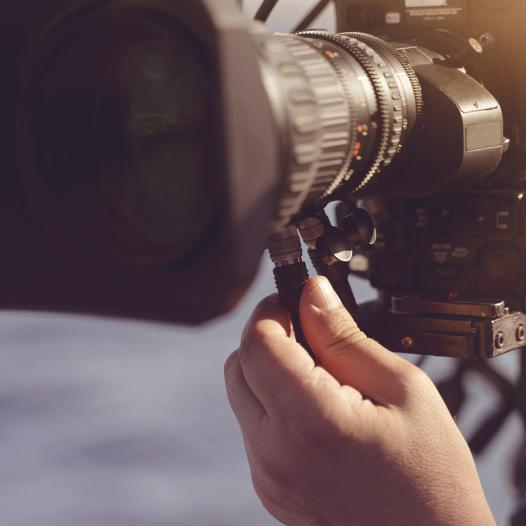 Not many film programs are this small, and we have the real ability to tailor projects to match student needs.
The production has other advantages too, says Jay Stern, an assistant professor of communication. "Not many film programs are this small, and we have the real ability to tailor projects to match student needs." 
Stern has directed four full-length films and has produced and directed more than 30 short films that have played at festivals across the U.S. and Canada, as well as theater productions. He has used his connections and expertise to elevate the overall production value. Other professional filmmakers assisting with the project include Joan Grossman, an independent media artist, producer and scholar based in Brooklyn, and Alan McIntyre Smith, a New York-based cinematographer and director. 
With their guidance, the project is now envisioned as an anthology of three loosely-connected short films based on short stories by the Argentine writer Jorge Luis Borges. Everyone is working on an accelerated pace. Shooting began in March, with post-production work scheduled for April. The ultimate goal is to have a finished film by the end of the semester that could later be screened at festivals. 
"Everyone has been incredibly creative and put a lot of energy into this," Stern says. "If not for the unfortunate situation of the pandemic, it would never have happened so quickly or in quite this way. We want this to be a good, showable project, but even if it doesn't fully live up to expectations, it is still an immensely valuable experience for these students." 
Everyone expects the Semester in LA program to resume once pandemic-related restrictions are lifted. But right now, the benefits of this project on its own merits are becoming clear. 
"When I sit in on these classes and workshops, I'm so excited," Janes says. "I'm so proud of our students. This is a phenomenal project where they are getting a lot they wouldn't generally get from a class, so the question we have now is, how do we build on this and make it a regular part of our film and television program here at Rider?"