Class of 2020 Commencement
This website outlines the new commencement plans for the Class of 2020. Please watch this webpage and your rider.edu email address for updates.
Sunday, May 16, 2021
Commencement is always a proud day for students and families as we celebrate the achievements of our bachelor, master and doctoral degree graduates.  Now more than ever, this symbolic occasion of graduation is important to the entire Rider community.
The Class of 2020 graduate and undergraduate degree Commencement ceremonies will be held on the afternoon of Sunday, May 16. The in-person ceremony length is approximately one hour and will include a student processional, national anthem, remarks from the President and the presentation of graduates (names will be read aloud and students will cross the stage and have professional photos taken).
Commencement will be held in compliance with state and institutional health and safety guidelines regarding capacity, masks, social distancing, and sanitation. The in-person commencement ceremonies are planned with the assumption that we can return to large in-person gatherings by spring 2021. To meet gathering guidelines, the University will offer multiple ceremonies. Graduates will be assigned a ceremony time based on their degree and college/school.
The in-person Commencement ceremony schedule will be announced on May 1. Graduates who pre-registered by the April 2 deadline will receive email notification of their assigned ceremony date and time.
Commencement is a ticketed event, and only guests with tickets will be permitted on campus. Graduates do not require a ticket and each graduate will receive 2 guest tickets. There are no extra tickets.
There will also be a virtual component to the celebration. All ceremonies will be livestreamed, and remarks from the President, Provost and student speakers can be viewed at rider.edu/commencement on May 15 and 16 along with submitted photos of graduates.
Only students who have fulfilled graduation requirements in December 2019, January 2020, May 2020 and August 2020 can walk in the May 2021 Commencement Class of 2020 ceremony. December 2020 graduates should plan to walk in the May 2021 Commencement Class of 2021 ceremony.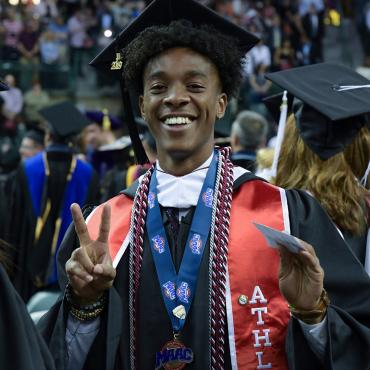 Celebrate the Class of 2020!
View a highlight video and congratulatory remarks.
See More
Questions
Please contact the Commencement office at 609-896-7700, Option 1, or e-mail [email protected].
Questions on Commencement day should be directed to 609-896-5000.